Four months into 2020: marine fuels curveballs and expectations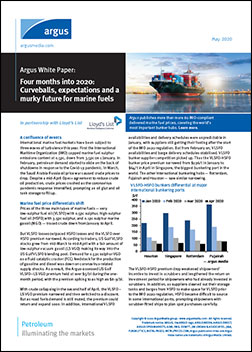 Argus is a leading independent provider of energy and commodity price benchmarks. This white paper, written by Argus' marine fuels experts from across the globe, explores the fundamentals driving regional bunker markets.

Global bunker fuel markets have been subject to three waves of turbulence this year. First the International Maritime Organization (IMO) sulphur emissions cap on 1 January 2020. Then in February, petroleum demand started to slide on the back of shutdowns in response to the Covid-19 epidemic. Followed in March by crude prices crashing as the coronavirus pandemic response intensified, prompting an oil glut and oil tank storage to fill up.

The international VLSFO-HSFO and the MGO-VLSFO price premium narrowing trends observed in the first four months of 2020 are likely to linger until the coronavirus pandemic subsides, which may be well into the third quarter.

As the global economy recovers, lower refinery runs could cause short-lived tightness of VLSFO at some of the smaller bunkering ports, causing in turn a short-lived spike in bunker prices at the end of the second quarter. Even if Covid-19 subsides in June and July, marine fuel demand may not return to normal for a considerable time yet.
Sponsored By: